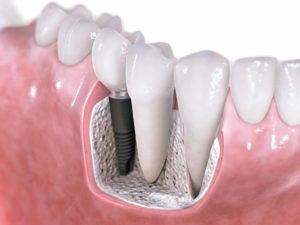 Dental Implants count as a revolutionary creation in the world of restorative dentistry. They are the preferred solution for missing teeth and the closest alternative to your actual teeth. At Riverside Dental Centre in Trenton, we can take you through all the details of this somewhat lengthy, yet completely worthwhile procedure.
What are Dental Implants?
Dental Implants are small titanium screws, surgically placed in your jawbone in place of the missing tooth. They act as artificial tooth roots that can later hold a crown, bridge or denture in place. However first, we make sure that the implant has healed nicely in your jaw and the bone has grown entirely around it, holding it firmly in place and making it as stable and secure as an actual tooth root.
Learn more about the dental implant procedure.

Advantages of Dental Implants
This tooth replacement technique is the best alternative in keeping your bones, gums, teeth and your overall oral health in great condition. It drastically lowers the risk of jawbone loss, gum infections and tooth shifting or getting loose. By replacing not only the visible part of the tooth, but also its actual root, we're ensuring the aesthetic enhancement, as well as the better function and longevity of the restoration.
Dental implants have become an increasingly popular option due to their reliability, comfort, aesthetics and affordability. The benefits keep on growing and include:
Predictable long-term results (>95% success)

Great aesthetics and functionality

Can replace single or multiple missing teeth

Restorations can be fixed or removable

Dental implants prevent further bone loss unlike other restorative options

Adjacent teeth remain intact; they are not damaged

Titanium does not decay and is therefore a permanent solution

Improved quality of life

Improved oral health, ability to eat, appearance and self-esteem

Book An Appointment With Your Trenton Dentist Today!
Fill Out Our Referral Forms Below